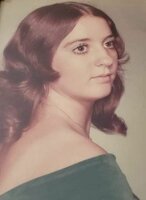 Kathy Ann Cree
Kathy Ann (Schell) Cree, 66 of Marcellus, died Friday, September 3, 2021 at Loretto Health and Rehabilitation Center. She was born in Utica, NY and came to Syracuse her senior year of high school. She graduated from West Genesee High School, and worked at Mead, now WeskRock, for over 30 years. Following her retirement, she donated to multiple charities and enjoyed spending time with her family and friends. Kathy was a very loving mother, and grandmother to her two grandsons, Benjamin and Zachary.
Kathy is predeceased by her brother James (1987), her father H. Murray Schell (1992), step-father Earl Joslin (2016) and nephew Richard (2021).
Survivors include her mother Gail (Schell) Joslin of Clinton, her brother Steve (Brenda) Schell of Florida, sister Laurie (Mark) Vanderkloet for Florida, son Robert (Jenna) Cree of Warners, grandsons, and a niece and nephews.
The family would like to extent their thanks to Loretto Health and Rehabilitation for the great care and support they offered Kathy.
Private services and burial were conducted with family.
In lieu of flowers, please send contributions to the ASPCA in Kathy's name.