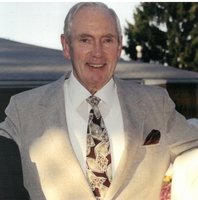 John Lauder
John Lauder, 92, of Syracuse, passed away peacefully on Wednesday, July 7, 2021, surrounded by his loving family. John was the son of the late Isabella and John Lauder. He was born and raised in East Lothian Tranent, Scotland, and moved to the United States when he was 24 years old. After John found employment as a butcher at Loblaws grocery store in 1953, his fiancée, Mary Ross Forbes (May), moved from Scotland to join him in the United States, and they were happily married for 67 years.
John was the Chief of Clan Douglas and ran the Syracuse Scottish Games in the 1960s. He loved to travel the United States and visit countries around the world. John had a passion for gardening and nature. Taking great pride in his yard and flowers, he could frequently be seen planting, watering, or weeding his garden. Strangers, friends, and family found him always willing to help with any gardening questions or give advice on how to grow a vibrant and healthy garden. John was also an avid storyteller and enjoyed sharing stories about Scotland with his family and friends.
John is survived by his loving wife of 67 years Mary (May) Lauder; his daughter Gale Cameron; grandchildren Scott C. (Christina) Cameron, Keith J. Cameron, and Laurie A. (Nicholas) Salvetti; and several nieces and nephews.
John was preceded in death by his sisters Margert (Peg), May, Nan, Isabella, and Jeanie Lee; brothers Harry, Alexander (Eric), George, and William; and son-in-law Donald F. Cameron.
A private memorial service will take place at a later date.