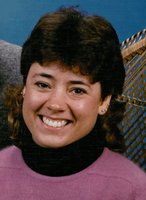 Patricia A. Sofranko
Patricia A. Sofranko, 58, of LaFayette, passed away peacefully on February 8, 2020, with family by her side. Born in Syracuse in 1961 to the late Gerald and Mary Lou (Desantis) Schmidt; Patricia was a graduate of LaFayette High School. She then attended Hartwick College and SUNY Oneonta, earning a degree in Elementary Education. She married her husband, Michael, in 1984 and together they raised their three children.
Patti enjoyed spending time with her family, and cooking. Her summers were spent at Skaneateles Lake. She taught Sunday School for 29 years, and was a big presence in her community- beginning in her early days as a lifeguard. She was a member of the Board of Education, and the Community Council in LaFayette.
She worked tirelessly to improve the lives of children and families for many years through her work as an early childhood specialist, a child day care director, and educator to the early childhood community; and most recently as the Early Childhood Advancement Ladder Coordinator at OCC.
She is survived by: her husband, Michael A. Sofranko; children: Allison (Bryan) Hamilton, Mitchell (Nicole Wolpink) Sofranko, Katherine (Stefan) Curtis; grandchildren: Claire and Leah- whom affectionately refer to their grandma as "Darling"; siblings: Charles (Patty) Schmidt of Bailey, CO, Mary Beth Schmidt, of LaFayette, Cindi (Steve) Jackson, of Syracuse, and Heidi (Chris) Smith, of Naples, FL.
Calling hours will be held on Saturday, February 15, 2020, from 10 am to 12 noon, at St. Joseph's Church, 6104 US Rt.20, LaFayette. A memorial mass will follow at noon. In lieu of flowers, consider a memorial donation in Patti's name to: Golisano Children's Hospital at: the Upstate Foundation, 750 E Adams St., Syracuse, NY 13210. Online condolences may be left at www.ballweg-lunsford.com